Popes, Peasants, and Shepherds: Recipes and Lore from Rome and Lazio
By Oretta Zanini De Vita, translated by Maureen B. Fant
University of California Press, Berkeley. ISBN 978-0520271548.
Publication date: March 26, 2013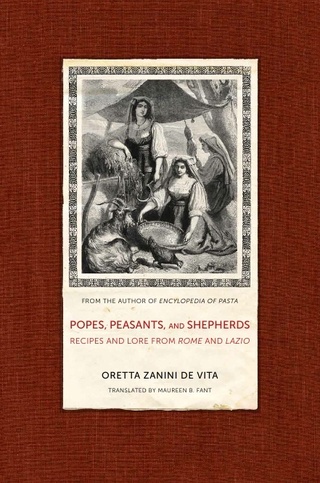 "This superlative collaboration between author and translator has produced very best kind of cookbook: authoritative but exciting, scholarly but racily written – everything the cook or scholar wants to know about the traditional food of the region around Rome." – Paul Levy
It would be very easy for a visitor to Rome to come away with the impression that the local menu consists of little more than the Gang of Four pastas (carbonara, amatriciana, cacio e pepe, and gricia) plus carciofi alla giudia and a great deal of offal. But there is so much more! So many vegetables, fresh- and saltwater fish, all those delicious legumes and pastas! The stewed oxtail! Crostata with sour cherries! Supplì al telefono! The nearly 200 pages of authentic, traditional recipes in this book should set the record straight.

And yet recipes are only a part of the book. Oretta tells the story of Rome and its region, Lazio, through aspects of its food and drink, showing how interwoven are food and politics, food and religion, and food and geography. There are chapters on water, mills, sheep, roads and taverns, Carnival, the Jewish kitchen, the Papal table, fairs and markets, Hollywood on the Tiber, sweets, and olives, as well as chapters on the five main geographic areas of the region—Viterbo and Etruria, the Sabine country, the hills and mountains east of Rome, and the Tyrrhenian coast.

It's an easy, lively read (with plenty of footnotes for those so inclined), and the recipes are quite easy to follow, even though, admittedly, you may not want to follow all of them. Frog frittata, anyone?